Save Our Old Town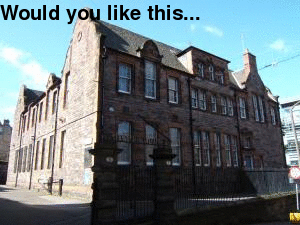 There are plans to demolish the listed Canongate Venture building, and demolish 1930s tenements in the Canongate.
The Canongate Community Forum is campaigning against Edinburgh City Council's plans to demolish listed buildings, a disused sportground and people's homes in the Canongate on the world famous Royal Mile in the Edinburgh World Heritage site.
Please see what will be lost, and help us to save it by signing our online petition and taking more action.
OBJECT NOW
Updates
We have now studied the plans and have made up the most user friendly guide we can on how to object. It is available in paper form at the shop 11.30am - 8pm in The Grassmarket until Thursday 3rd May. It is now on this website from today (30th April) see How to Object in menu to the left. You have until the 18th of May to help preserve the Capitals Historic Core, regardless of how old you are, your nationality or where you live...spread the word. The more objections the better, they cant ignore them. It will have to go to a higher level than the council for a decision to be taken.
Campaign is featured in the The Big Issue http://www.bigissuescotland.com/ and will be featured in their next paper issue on the 10th May
See campaign, sponsorship by sport & golfing and others at http://www.youtube.com/watch?v=miko9rcRhX4